Okinawa exclusive mini figure release!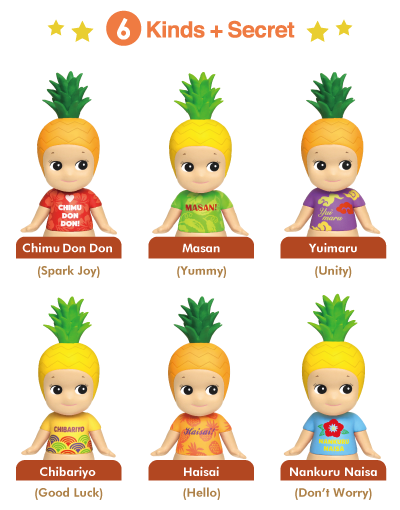 New mini figure series exclusive to Okinawa
Sonny Angel come as cute little pineapples – a fruit representative of tropical Okinawa. They have been tanned from having too much under the sun!
Each Sonny Angel wears a funky t-shirt print with a phrase in Okinawan dialect. Can you try speaking in Okinawan Japanese?
This series also makes for a perfect Okinawa souvenir to give to friends and family back at home. (Please note that this series is not a limited series.)
Sonny Angel mini figure – Okinawa series –
★Blind Box : ¥900 + tax each
★Assort Box (6 Blind Boxes): ¥5,400 + tax
★On sale from June 17th, 2017 (JST)
*Each blind box is packaged randomly, so you won't know which figure you will get until you open the box.
About Purchase Limit
Up to 4 assort boxes (total of 24 blind boxes) per person.
The product reservation/order limit is set for every month – if you have already purchased up to the limit and wish to buy more, please do so the following month.
(Please note that staff may ask for proof of identification when confirming your reservation details.)
About Product Reservations
This series will be on sale at our Sonny Angel Terrace (Ishigaki). However, product stocks may vary depending on the day, so it is advised that you book through our online form below beforehand. Once you book, we will reserve the product for you to purchase when you visit our store.
Sonny Angel Store members can reserve this product before they visit Sonny Angel Terrace (Ishigaki). However, reservations must be made in advance (cannot be made on the day of visit).
Please note that your order will be cancelled if you cannot come to the store on the day you have reserved.
For any cancellations and/or change in reservation dates, please contact us through our CONTACT FORM.
Please note that reservations may not be possible depending on available product stock. In this case, the store will contact you directly.
Sonny Angel mini figure -Okinawa series- Reservation Form